ABIM is the premier global meeting for the biocontrol industry and is internationally recognised as the global platform for the industry to network, discover and unveil new products, market opportunities and research areas. But as well as promoting biocontrol and networking it is the platform to liaise with and inform policy makers and regulators of the specific needs of our unique growth industry.
During the three days of the 10th anniversary conference, over 800 delegates from 47 countries representing 394 companies and organisations from all over the globe were present and exchanged experiences and obtained information on the latest products and developments on the world market. In the scientific programme, 43 presentations covered the latest developments in market development, regulatory affairs and novel products for plant protection. The exhibition was at the core of the congress, giving companies excellent visibility. The vast majority of company representatives present at ABIM 2015 stated that they were highly satisfied with the outcome of the conference.


Highlights of ABIM 2015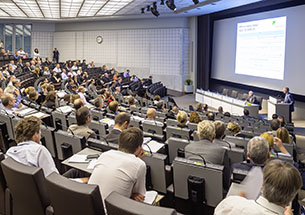 L. P. (Luuk) van Duijn, director of the Dutch Board for the Authorisation of Plant Protection Products and Biocides (ctgb) will give the pre-aperitif keynote address on Monday: Sustainable Agriculture in Europe - Activities of an EU Member State including The Green Deal - a green initiative and activities during the EU Presidency
Bill Dunham, co-editor of 2BMonthly, will give the pre-aperitif keynote address on Tuesday: Evolution & Future of Biocontrol Industry.
At the 10th ABIM conference, the 'Bernard Blum Award' will be awarded to an IBMA member.
Next ABIM at the Congress Center Basel
ABIM 2016
24-26 October 2016
ABIM 2017
23-25 October 2017
ABIM 2018
22-24 October 2018
ABIM 2019
21-23 October 2019