Booking an exhibition space at ABIM 2018
With over 1000 visitors, 2017 was the most successful year yet for the Annual Biocontrol Industry Meeting ABIM. To accommodate the increasing demand for exhibition space, this year, ABIM 2018 will occupy a new and larger hall within the Basel Congress Center. All exhibition spaces will be located within hall 4.1 for the first time. For those familiar with the centre, it is on the first floor, accessible at the top of the first flight of elevators from the ground floor reception or directly from the Swissôtel mezzanine.
A range of different sized and shaped exhibition spaces are available. Each space has a partial shell scheme with a rear wall and partial side walls and the package for each stand includes: electrical connection, light, electricity, carpet and a conference pass for one person.
All stands are being allocated on a first come first served basis. To avoid disappointment, please do not delay. Consult the attached plan and select a first and second choice stand space that you would like to occupy and submit your application.
Please note that the actual booth number of the exhibition stand space may change due to the final size and shapes of the booths ordered. We will do our best to update the plan regularly as stand space is reserved but please consider that it may not fully reflect the availability at any one time.
If required, all furniture must be ordered from the Congress Centre Shop. Once you have booked, you will automatically receive a link, username and password from the conference secretariat to access this facility.
Prices and booking exhibitions stands: Please follow this link to on-line booking
Deadline for booking exhibition stands: 31 July 2018
We look forward to welcoming you as an exhibitor to ABIM 2018 and remember, to make sure you have the space you prefer, please order online as soon as possible.
Information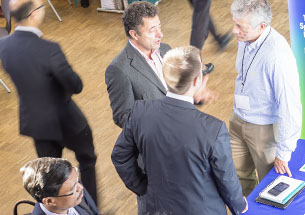 The ABIM exhibition is a core part of the conference. All lunches, aperitifs and coffee breaks take place within the exhibition, thus maximizing the visibility of exhibitors to the delegates.
For the first time, the exhibition will take place in the hall 4.1.
Prices
Registration of participants
Exhibition Furniture
The on-line shop of the Congress Center for additional furniture closes 7 October 2018. Once a stand space has been booked, exhibitors will automatically receive a link, username and password from the conference secretariat to access this facility.